Venezuela election latest: Turkey's Erodgan and football legend Maradona back Nicolas Maduro on eve of controversial vote
Chloe Farand
The US, the EU and some Latin American countries have condemned Sunday's vote as unfair.
Venezuela's President Nicolas Maduro has received the support of Turkish President Recep Tayyip Erdogan and Argentina's football legend Diego Maradona on the eve of a controversial election opponents have denounced as a fraud.
The US, the EU and some Latin American countries have criticised Sunday's vote in which President Maduro is likely to win a second six-year term in office amid a crisis-stricken economy.
Critics have little doubt that Mr Maduro, 55, a former bus driver, is assured victory because two of his most popular opponents were banned from running and the electoral council is pro-government.
Last October, the three main opposition parties said they would boycott Sunday's election saying it would only serve what they denounced as President Maduro's dictatorship.
Any foreign support will be welcomed by Mr Maduro who has been threatened with further sanctions by the Trump administration.
US authorities have also called on Latin American countries to cut off Venezuelan officials from financial systems and restrict their travel visas.
In a conversation mired with technical problems and broadcast on Venezuelan state television, Mr Erdogan told Mr Maduro: "I have faith you will be triumphant."
Mr Maduro replied: "
Venezuel

a

ns are going to give a lesson on democracy and liberty to the world on Sunday."
Like Mr Maduro, Mr Erdogan has been criticised for his authoritarian rule and his efforts to crush dissidents.
Turkey has a small presence in Venezuela but Turkish Airlines started flying to Caracas in 2016 – one of a few major international carriers to still do so.
The Venezuelan government also said Turkey would invest in its controversial "petro" cryptocurrency.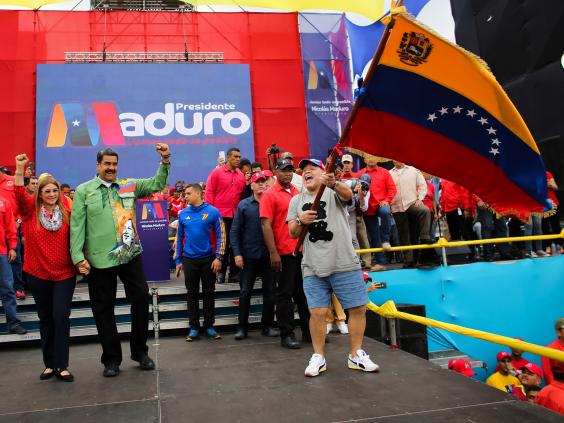 Meanwhile, at a closing campaign event late on Thursday, Mr Maradona surprised pro-Maduro supporters gathered in the capital Caracas by dancing to the rhythm of a catchy reggaeton song while waving a 
Venezuela

n yellow, blue and red flag.
The retired footballer and manager has previously called himself a "soldier" for Mr Maduro. He is well-known for supporting far-left politicians and was a friend of Mr Maduro's predecessor Hugo Chavez and the late Cuban leader Fidel Castro.
Under Mr Maduro's six-year-rule, Venezuela has experienced an economic meltdown and mismanagement has been blamed for the erosion of the country's once-robust oil industry leaving widespread shortages of food and medicine.
The support of President Erdogan and Mr Maradona came as a riot erupted at the country's most notorious political prison, the El Helicoide facility in central Caracas.
Videos from the prison, where hundreds of opponents to President Maduro are held, showed groups of men identifying themselves as prisoners saying they had taken over in protest against poor conditions and demanded freedom.
Human rights groups and critics of President Maduro said the government has cracked down on protests and several hundred political prisoners have been unfairly jailed.
Following the riot, attorney general Tarek William Saab announced detainees would get medical check-ups before being transferred to other detention centres. Mr Saab added that US missionary Joshua Holt, who has been held in the prison for two years and pleaded for help in another video posted on social media, would not be transferred to another prison.
While there are mounting signs of Venezuela's socialist revolution being tested to its limits, President Maduro has predicted a decisive victory in this weekend's election and vowed to fight corruption and criminals he blamed for destroying the economy.
Mr Maduro has repeatedly claimed a right-wing, US-led campaign was sabotaging the economy and inciting a coup to establish a capitalist leadership.
Addressing a crow of supporters on Thursday, Mr Maduro said he had stayed loyal to Mr Chavez's legacy, adding: "I will dedicate my life to fixing the economy of this country. My spirit is renewed, my energy recharged."
Opposition lawmaker and economist Angel Alvarado told Reuters the government no longer cared about being seen as legitimate in Western eyes, but instead was looking to cement relations with countries like Turkey, Russia, China and Qatar.
China and Russia have provided Mr Maduro's government with billion-dollar loans and both countries control significant oil fields in 
Venezuela.
Mr Maduro will still be facing two candidates in Sunday's election: Henri Falcon, of Progressive Advance, and independent Javier Bertucci.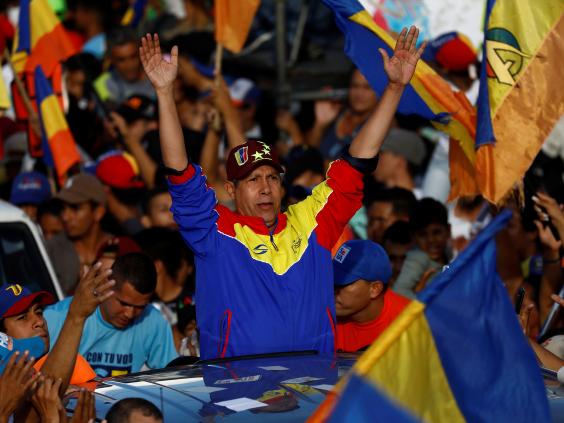 Mr Falcon is a lawyer and former governor of Lara State who abandoned Mr Maduro's PSUV party in 2010 and has since distanced himself from the "Chavismo" movement of his one-time mentor, President Chavez, a tactic that has not entirely convinced his critics.
During his final rally, Mr Falcon told a cheering crowd of supporters: "I will free 
Venezuel

a

ns from dictatorship. Maduro, the people want to bid you good riddance because you have caused great harm."
Mr Bertucci is an evangelical pastor and businessman who says he offers "the light among the darkness", despite opposing abortion and adoption for LGBT+ couples.
Additional reporting by agencies.