Is the EU and Serbia isolating Kosovo on the international stage?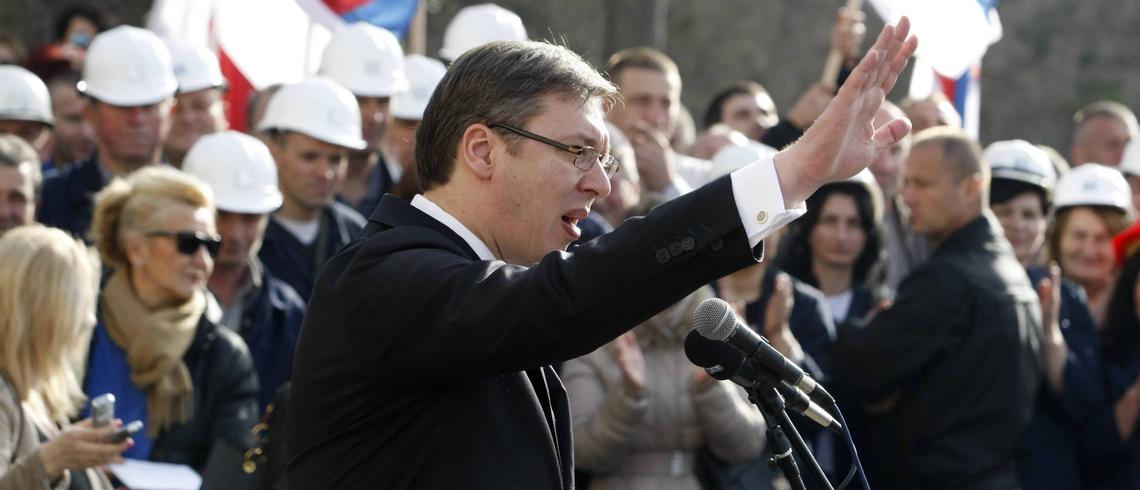 Kosovo has placed trade sanctions on Serbia as the latter increasingly disregards Kosovo's territorial integrity and international standing.
Kosovo introduced 100 percent customs tariffs on imports from Serbia as the country continues to fight an aggressive international campaign against Kosovo's recognition.
Tensions between the two states have openly escalated since Kosovo imposed a 10 percent customs tariff on Serbia on November 6, for what it called an "aggressive campaign" against the young nation.
According to official figures, Serbia exports more than $500 million of goods to Kosovo while importing $21 million.
Kosovo declared independence from Serbia in 2008, after surviving  a campaign of ethnic cleansing led by the Serbian army in 1999. Serbia does not recognise Kosovo but 110 other countries do. In addition to lobbying states that have recognised Kosovo to withdraw their recognition, Serbia has also worked to discourage new countries from recognising Kosovo.
Serbia has engaged in this aggressive diplomacy while also taking part in an EU-backed mediation process which aims to bring the two nations together through negotiations. Kosovan authorities have viewed the dual process undertaken by Serbia as a form of "diplomatic aggression against Kosovo's independence" saying that on the one hand Serbia is working to normalise relations while also working hard to undermine Kosovo on the international stage.
EU authorities have been quick to react and have demanded that the tariffs "must be reversed immediately" with EU foreign affairs representative Federica Mogherini condemning the move as "a clear violation of the Central European Free Trade Agreement (CEFTA)."
Shpend Kursani, a researcher in the Department of Social and Political Sciences at the European University Institute, told TRT World that the EU actions reek of double standards.
"When Kosovo reacts to Serbia's blocking attempts on the international stage by imposing trade tariffs, EU jumps immediately to react as one can see from the comments of Federica Mogherini," he said.
Conversely, the EU has been slow to act on Serb provocations towards Kosovo, including but not limited to, blocking Kosovo from joining international institutions, most recently Interpol, the international organisation that facilitates police cooperation.
In the past, Serbia has attempted to undermine Kosovan authorities by abusing Interpol notices against Kosovo Prime Minister Ramush Haradinaj. Most recently, Serbian President Aleksandar Vucic praised Serbian leader Slobodan Milosevic, who lead the ethnic cleansing campaign against Albanians in Kosovo, saying: "Milosevic was a great Serbian leader whose intentions were certainly for the best."
The EU has avoided directly confronting Serbian actions while maintaining an aggressive posture towards the Kosovan government. Kursani added that silence on these issues means that the EU "not only lost or is losing its legitimacy towards Kosovo, but it is growing to be a dishonest broker".
The EU has also dragged its feet in giving Kosovo visa free access to the Schengen area. It had promised Kosovo that visa free access to the EU was within reach, which would have increased the ability of Kosovo citizens to move around more freely, however, with more than 10 EU countries against such a move that looks increasingly unlikely.
Chairman of Europe's think tank for south-east Europe and enlargement Gerald Knaus recently said: "Kosovo is blocked everywhere; the EU grants visa free travel to Ukraine and Moldova but NOT to Kosovo, even after meeting all conditions; the only offer to Pristina is 'give up territory and resources in return for normalisation. This does not look like a promising strategy".
Increasingly, the only options that the Kosovan government seems to have in its possession against the unfriendly actions of Serbia and the lack of EU support, is to resort to tariffs and hit Serbia where it hurts, in the hope that it will come back to the negotiating table.
Vucic has promised retaliation, telling Serbia's B92 news portal: "We will react rationally, calmly and responsibly." However, the Serbian strategy on the international stage seems to be to increasingly corner Kosovo in the hope that it wrings further political and economic concessions out of the young country.
With EU policy increasingly adrift in the Balkans and the US losing interest, Serbia senses a unique opportunity to roll back Kosovo's international ascendance and regain the initiative.