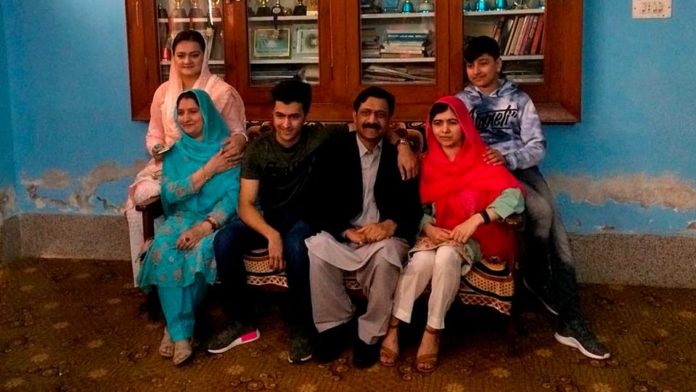 Nobel prize winner Malala visits former home in Pakistan
Malala Yousafzai visits her former home in Mingora city of the picturesque Swat Valley for the first time since 2012 when she was shot by a Pakistani Taliban gunman.
Pakistan's Nobel Peace Prize winner Malala Yousafzai, second right, poses for photograph with her family members and Pakistan Information Minister Marriyum Aurangzeb, left, at her native home during a visit to Mingora, the main town of Pakistan Swat Valley, March 31, 2018. (AP)
Pakistan's Nobel Peace Prize winner Malala Yousafzai on Saturday arrived in her hometown in Mingora city of Swat Valley for the first time since a Pakistani Taliban militant shot her there in 2012.
Youzafzai, 20, said she waited for the moment for more than five years and said she often looked at Pakistan on the map, hoping one day to return.
She said she plans to permanently return to Pakistan after completing her studies in the UK.
"It is still like a dream for me, am I among you? Is it a dream or reality," she said.
In October 2012, Yousafzai was shot in the head by a militant who jumped inside her school van and yelled, "Who is Malala?"
Yousafzai, then 14, was targeted for speaking out on girls' education.
She received initial treatment in Pakistan and later was taken to UK for further care where she stayed on to continue her education and became the youngest person to be awarded the Nobel Peace Prize in 2014.
Emotional scenes at her former home
Yousafzai and her family arrived in a helicopter provided by the Pakistani military. She had arrived in the Islamabad capital before dawn on Thursday flanked by heavy security and plans to return to UK on Monday.
Yousafzai entered her childhood home accompanied by her father, mother and brother.
She sobbed upon entering the home where relatives, former classmates and friends had been anxiously waiting since morning to welcome her with flowers and hugs.
Youzafsai later returned to Islamabad, where she met with human rights activists.
So much joy seeing my family home, visiting friends and putting my feet on this soil again. #Home #Pakistan pic.twitter.com/B8VN5Odd27

— Malala (@Malala) March 31, 2018
'Lit the candle of education'
Arooj Bibi, a neighbour, said she was happy to meet with Youzafzai, but was sad because her visit was so brief. Bibi said Yousafzai "lit the candle of education. God willing, there will be thousands of girls like Malala getting an education" in Swat.
Yousafzai also attended a gathering at the army's Cadet College in Swat.
"We are very happy, because Malala is a daughter of Pakistan, and a daughter of Swat. We are happy that the daughter of Swat has returned to Swat. We welcome her with our whole hearts," said local journalist Owais Ahmed Khan said.
Security had been visibly beefed up in Mingora the previous day.
Yousafzai had asked authorities to allow her to go to Mingora and Shangla village in the Swat Valley, where a school has been built by her Malala Fund.
TRT World speaks to journalist Kamran Yousef for more on her visit.
Girls' education
Since her attack and recovery, Yousafzai has led the Malala Fund in which she said has invested $6 million for schools and books and uniforms for schoolchildren.
Yousafzai has delighted in telling the Pakistan Taliban that instead of silencing her, they have amplified her voice. She has also written a book, spoken at the UN and met with refugees.
On Friday, Yousafzai praised the Pakistan army in an interview on the independent Geo news channel for providing her timely medical treatment, saying her surgery was done by an army surgeon at the "right time."
Prime Minister Shahid khaqan Abbasi presents a Souvenir to Noble Laureate Malala Yousafzai at Prime Minister's Office today. MoS for MOIB Marriyum Aurangzeb, MoS for IT Anusha Rahman and Chairperson of BISP Marvi Mamon were also present on the occasion. #MalalaYousafzai pic.twitter.com/U6dO8zabrt

— Govt of Pakistan (@pid_gov) March 29, 2018
Criticism on social media
Yousafzai has won praise from across Pakistan on her return home, but some critics on social media have tried to undermine her efforts to promote girls' education.
Yousafzai told media outlets on Friday that she expected criticism from militants, who had a particular mindset, but doesn't understand why some educated Pakistanis oppose her.
"Those who do criticise have an absurd kind of criticism that doesn't make any sense," she said in an interview with Pakistan's The News English-language newspaper published on Saturday.
"What I want is for people to support my purpose of education and think about the daughters of Pakistan who need an education," she told the newspaper.
"Don't think about me. I don't want any favour or I don't want everyone to accept me. All I care about is that they accept education as an issue."