Matbucha Recipe – Arabic Tomato Dip That Your Pita Needs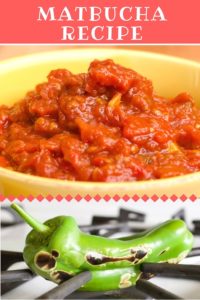 INGREDIENTS (Serves 6)
8 tomatoes
2 red bell peppers
1-2 hot green peppers, depending on spiciness level
4 cloves garlic, sliced
1 tsp salt
1 tbsp paprika
4 tbsp olive oil
1 tbsp sugar
PREPARATION
This recipe teaches you two tricks for peeling tomatoes and peppers. Useful for matbucha and other salads.
1. Place your peppers on a stovetop and burn until skin is blackened. Then place the peppers in a container while they are still hot. Seal the container. You can also put them on a plate with plastic wrap over it. Allow the pepper to steam for 3-5 minutes. Then peel the skin off and rinse to remove burnt pieces. Cut the peppers to remove the stem and the seeds (keep the seeds for a spicier dish). Cut into strips and set aside.
2. Bring a large pot of water to a boil. Cut an X shape on the bottom of the tomatoes. See below.
Place the tomatoes in the boiling water for 30 seconds. If you leave them longer, they will get mushy and hard to peel. Remove tomatoes and place in a large bowl filled with ice water to stop the cooking. The skin will easily peel off.
3. In a medium pan, add the tomatoes, garlic and sugar. Cook on low heat for 10 minutes.
4. Add the olive oil, sliced peppers, paprika and salt. Let the matbucha cook on medium-low heat for 90 minutes, stirring occasionally to prevent it from sticking to the bottom of the pan. It's ready when it reaches a paste-like consistency. Allow to cool before serving.