Which Windows programs for more advanced users do you recommend?
Jack Schofield
An earlier answer endorsed some programs for people setting up a new Windows PC, but Joakim would like some suggestions for more seasoned users.
There are a dozen programs that I install on every Windows PC. Currently, these include the Firefox web browser, Unchecky, Search Everything, Paint.net, PIXresizer, FreeFileSync, Personal Software Inspector (PSI) and the full K-Lite codec pack, which includes Media Player Classic Home Cinema (MPC-HC). I mentioned all of those in my previous answer, along with some alternatives.
The main aim is to avoid problems such as accidentally installing foistware when downloading programs (Unchecky), trying to find codecs when videos won't play (K-Lite), updating applications (PSI), and not backing up essential data (FreeFileSync). Paint.net is a replacement for Windows Paint, while MPC-HC replaces Windows Media Player. Search Everything – unlike Windows 10's File Explorer – makes it easy to find files, and you can drag and drop files from the search results.
PIXresizer provides a quick, efficient way to batch-resize a folder of photos before uploading them to Facebook. There's no point in uploading 5MB image files. Reducing them to around 0.5MB (512K) makes it easier to upload them over dodgy hotel wifi.
None of these programs is hard to use, and they are suitable for people who aren't interested in what their computers are doing. We are interested in that, I think …
Advance to go
So how do programs for beginners differ from ones for more advanced users? First, they are usually designed so that their default settings do what most people want, most of the time. Second, they hide the complexity of what the PC is doing under the hood.
You could see this as dumbing down. This process was already evident at the 2001 launch of Windows XP. It accelerated with the arrival of billions of smartphone and tablet users, and Windows 10 apps. By contrast, a lot of serious programs – Microsoft Office, most of Adobe Creative Suite, Dragon voice recognition software, AutoCAD, Mathematica etc – and utilities were written in a previous century.
For some concrete examples, consider ripping CDs and converting videos to different formats (eg for a phone or tablet). Ordinary users are usually happy to rip CDs using Apple's iTunes or Winamp or whatever. These programs try to automate the process. Advanced users will use Exact Audio Copy and tweak the settings to get the best possible results.
If someone asked me for a video recoder, I'd recommend something like the free version of WonderFox's HD Video Decoder Factory, which has a few big buttons and hides all the details under defaults. What I use myself is XMedia Recode. This has no big buttons, provides a zillion controls and, by the way, comes with no instructions.
Second steps
After installing the basics, I add a few programs to my own PCs. The main ones are Microsoft Office, the Vivaldi browser, Process Explorer, DoubleKiller (a duplicate file finder), Malwarebytes Anti-Malware and NovaBench. Only two of these are aimed at advanced users – Vivaldi and Process Explorer – but they all have their uses.
Vivaldi is my second browser, alongside Firefox. It's based on Google's open source Chromium code, so it works like Chrome but without Google's proprietary additions. Its main appeal is that it's very configurable, so you can make it work how you want. Its drawbacks are that, like Chrome, it consumes a lot of resources, and it doesn't handle hundreds of tabs as nicely as Firefox.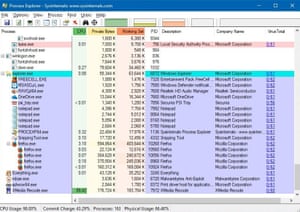 Process Explorer is the most useful program in the Sysinternals software suite, which Microsoft bought. It shows which programs your PC is running, and what they are doing. Has your PC slowed because something is hogging the processor, or has a browser eaten all your memory? This is one way find out.
Microsoft has improved Windows 10's Task Manager, so most people don't need Process Explorer, but it's good to have. So are other Sysinternals utilities such as AutoRuns (What's running at start-up?) and Process Monitor.
NovaBench benchmarks your PC's CPU, GPU, RAM speed and disk write speed. Run it on a new PC (or new installation of Windows) and you can compare the performance with similar machines online. You can see if your PC is underperforming, or if its performance has declined – or even improved – over time.
There are lots of alternatives. In some respects, I prefer UserBenchmark, but it crashes on my main PC. Futuremark's PCMark is the industry standard benchmark, but it costs money. There are also some good standalone tests: Futuremark's 3DMark for graphics cards, Prime95 for CPUs, and CrystalDiskMark for storage.
They also serve …
Windows is known for its vast number of utilities, and most of them are free, so you can try them to see if you like them.
Many of them replace built-in Windows 10 utilities that are good enough for most people. I've already mentioned examples such as Paint.net, MPC-HC and Process Explorer. Ditto extends Windows' clipboard, though real geeks might want to look at CopyQ and Chocolatey. Notepad++, which appeals mainly to programmers, is another example.
As I'm sure you know, there's a plethora of replacements for the various Windows photo viewers. The best known include Irfan Skiljan's IrfanView (donationware), FastStone, XnView Classic and XnView MP (all free for personal user). IrfanView wins if you need its plug-ins, but the others are worth a look.
Both Search Everything and Mythicsoft's Agent Ransack are free replacements for File Explorer's worsening search features. The main difference is that Agent Ransack searches inside files, while Search Everything only finds filenames. Agent Ransack is also available under a different name: FileLocator Lite. It offers a paid upgrade to the much more powerful FileLocator Pro.
GlassWire is a replacement for the Windows firewall. It's designed to make all your computer's network connections visible, and does that with some pretty graphics. However, it requires a good understanding of networks and the behaviour of modern software.
Automation
One of the benefits of computers is that you can automate repetitive tasks. Windows users rarely do. One sign of the times was Microsoft hiding Word's macro recorder under the ribbon's Developer tab, which isn't even visible in the default view.
Fortunately, there are at least a dozen scripting utilities for Windows, the best known being AutoHotKey. Popularity is important because it means there are lots of user-written scripts to download. However, the smallest and coolest macro recorder is TinyTask. It really is tiny: it's a 32K program that, when running, takes up roughly the same space as two icons. (To run it, you will have to overrule Windows 10, which does not recognise the publisher.) The same company sells an advanced automation program, vTask Studio.
Finally, there's PhraseExpress. This is a professional application that autocompletes text, fills in forms, pastes in boilerplate, checks your spelling, and also works as a macro recorder and clipboard utility. It even works out how much money it's saving you. The standard, pro and enterprise versions cost $49.95, $139.95 and $219 respectively, but there's a freeware version for people who can (among other conditions) avoid using it for "any full- or part-time activity that generates any financial benefit". It starts out as the full version to provide a 30-day trial.
Source: tgheguardian.com