MOUTHWATERING FOOD TOUR OF ATHENS
Food is such an important part of experiencing another culture and if you can manage to work this food tour of Athens into your visit, you won't be disappointed.
What you can expect
Your culinary journey begins in Syntagma Square in central Athens. Within minutes you will have a warm pretzel like bread-ring in your hands, purchased from a local street vendor. Then you're off on foot through hidden lanes and unassuming back streets where along the way, you will taste delicious rice puddings with a twist and stop by one of the oldest bakeries in Athens for a feta cheese pie. A few twists and turns later, you'll come across an old style cafeteria renowned for its "loukoumades" or Greek style doughnuts that are warm, light and fluffy, topped with a golden honey like syrup. It will be time for coffee soon and you can opt for a real deal Greek coffee made the traditional way on hot sand and you'll learn about spoon sweets, which are fruits preserved in sugary syrup, that are often served with coffee and are delicious.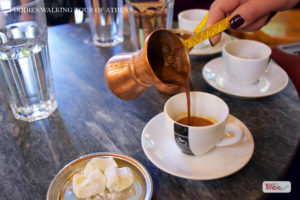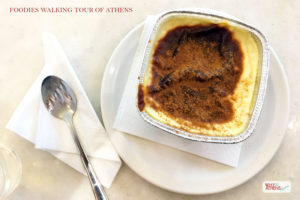 And then it's off to the market district in downtown Athens where the Varvakios Market thrives daily alongside fish mongers and butchers. Your experienced guide will enlighten you on Greek produce in season and how they are used in Greek cuisine. It is a snapshot of old Athens and what was once the original commercial heart of the city. By now you've worked back your appetite and a hearty meal awaits at a nearby taverna that has been feeding the working class since 1898. This is where real Greek food exists, away from tourist traps of over produced moussaka. It is the "magirefta" (cooked dishes as opposed to grills, souvlaki, gyros etc) and "ladera" (made with oil) that will give you a proper understanding of Greek cuisine.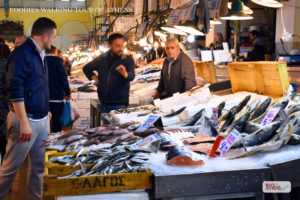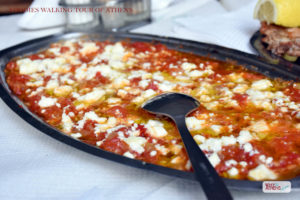 Your food tour continues a few streets away where you will taste a variety of Greek cheeses and cold meats. Passing by a trail of spice shops you will finish off your culinary odyssey at one of the most authentic "psistaria" or grill houses in Athens.

The tour's foodie guides are passionate and knowledgeable about Greek cuisine. They'll give you a thorough understanding of how Greek food has evolved over the years and is a fascinating way to explore the streets of the city with a local, that you might have otherwise avoided or missed out on.
You can book a private pick up to transfer you
to or from the port of Piraeus or Athens International Airport. A separate booking is required and we will manage both for you, to co-ordinate with your tour times.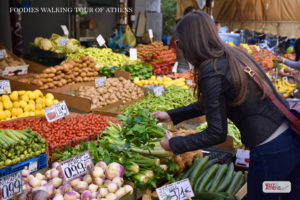 WHAT WE LOVED
* Perfectly paced, with generous servings
of food (not spoonful's of food), to eat as much or as little as you like.
* Each tour has a maximum of 10 people participating which makes for a great social experience
* Ideal for singles, couples or groups travelling together, with or without children
* A great cross-section of food gives a good understanding of how Greek cuisine should be enjoyed
* Lots of food will leave you satisfied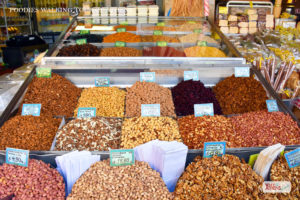 WHY ATHENS TIPS
* Go hungry!
* Try and organise this tour or the night time food tour as one of the first things you do in Athens. It will give you useful pointers of the foods you want to eat more of and places you may want to go back and try in Athens
* Bring a bottle of water and wear comfortable walking shoes, to move easily around the streets of Athens. We would ra
te this walk as low intensity, you don't n
eed to be super fit. In summer, bring a hat, sunglasses and sun-block.
PRICING
* Persons 11 years of age and older: €65 per person all inclusive
* Children between 6 and 10 years of age: €25 per person
* If you would like to organise this tour as a private group from 2 – 12 people or on a different day of the week, get in touch with us and email us your requirements at: feedback@whyathens.com or via the 'Live Chat' panel below.Price exclusions:
* Any alcohol

* Gratuities (optional)

* Any personal expenses
 
BOOKING INFORMATION
* This tour operates every Monday, Wednesday & Friday morning, starting at 10:00am in Syntagma Square. Details of t
he meeting point will be sent to you after you have made your booking
* This tour is semi-private, where you will participate in a group size of no more than 10 people in total
* All special dietary requests can be made in the notes section of your booking
* This tour is conducted in English
* All taxes are included in the price
* In case of rain, you will be notified about any changes to your scheduled walk
* You may cancel your reservation without penalty up to 72 hours before the scheduled tour date
* If you cancel 48 hours before the scheduled tour date, 50% of the amount will be refunded
* Cancellation 24 hours before or less does not entitle you to a refund
* In the event that you do not honour
your reservation and not inform us of a cancellation, the full tour fee will be charged.
* Tours do not operate on Christmas Day, 26th December, Easter Sunday and national holidays.
* This tour is independently run by a professionally licensed third party operator that we have carefully selected. The operator of the tour will contact you to organise your meeting point and start tim
e closer to the date of the tour