Iran reiterates support for Syria in face of 'foreign aggression'
Saeed Kamali Dehghan Iran correspondent
Senior aide to Iranian supreme leader visits eastern Ghouta and meets Bashar al-Assad.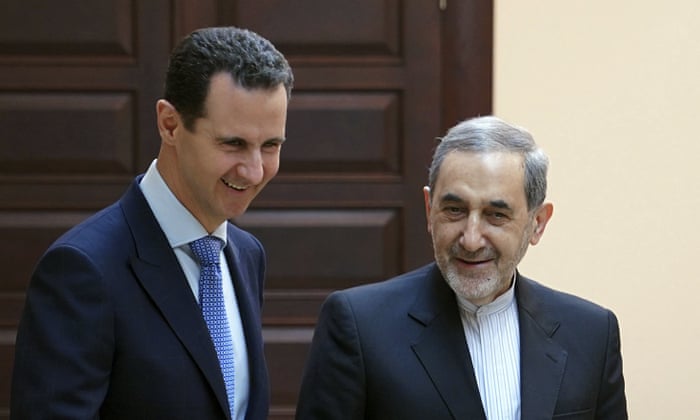 Ali Akbar Velayati, a senior Iranian foreign policy official, meets the Syrian president, Bashar al-Assad, in Damascus. Photograph: Uncredited/AP
Tehran has said that it will stand by Bashar al-Assad in the event of a US-led strike, as a senior adviser to the Iranian supreme leader met the Syrian president in Damascus on Thursday.
Ali Akbar Velayati, a top foreign policy aide to Ayatollah Ali Khamenei, visited eastern Ghouta earlier in the week and rejected claims that the Syrian government was behind Saturday's suspected chemical attack in the town of Douma.
Velayati met Assad in a show of defiance in the face of possible western retaliation for the attack. "Like before, Iran will stand by Syria under any circumstances," he said, according to Iran's state Irna news agency.
"For seven years, an all-out war has been waged against the Syrian nation and its government led directly by the US. Syria is not weaker than seven years ago, nor is America any stronger," he said, according to separate quotes carried by the semi-official Fars news agency, which is affiliated to the Iranian Revolutionary Guards.
"Trump took stances in the immediate aftermath of his election that caught many by surprise, but now those stances are an object of ridicule."
According to Irna, Assad told Velayati: "Whenever the Syrian army achieves victory in the field, some western countries raise their voices and intensify their movements in an attempt to change the track of events."
Iran, which has been propping up Assad since the conflict began, has provided the Syrian government with crucial ground support, thanks to a combination of Hezbollah fighters, Shia volunteers from across the Middle East and its own Revolutionary Guards.
Russian and Iranian backing has swung the conflict in Assad's favour, at the same time as the so-called caliphate of the Islamic State (Isis) has crumbled. Its remaining fighters have been pushed back to a modest piece of land along the Euphrates valley near the Iraqi border.
The post-Isis era has also changed the dynamic of the war, however, and Israel, which is concerned about Iran's growing influence on its doorstep, has become more involved militarily. An Israeli airstrike on a Syrian airbase near Homs on Sunday killed at least seven Iranian military personnel in an incident that Velayati vowed would not be left unanswered.
Ahead of his meeting with Assad, he told state TV: "We will stand by Syria's government against any foreign aggression … Iran backs Syria in its fight against America and the Zionist regime."
Earlier in the week, a senior Iranian foreign ministry official, Hossein Jabari Ansari, strongly rejected claims that Assad was behind the chemical attack. "The Syrian army's use of chemicals does not seem logical since it has the upper hand in its war against armed terrorists," he told a Russian official in Tehran.
He said Iran condemned any use of chemical weapons by any country or group, according to the Tasnim news agency.
"Such allegations by the US and some other western countries reveal a new conspiracy against the Syrian government and people. This is an excuse for military action against Syrians and will definitely add to the complexity of the situation in this country and region."