Amazon Go: convenience and concern at new checkout-free corner shop
Mark Harris in Seattle
A

ll around me in this Seattle corner shop, people are grabbing items off the shelves, shoving them into bags or pockets, and bolting for the door. It would feel like well-mannered looting if not for the hi-tech gates where shoppers have to swipe in with their smartphones.
This is the first day that Amazon's new checkout-less convenience store, Amazon Go, is open to the public, and shopping is even easier than online. There is no tedious clicking or scrolling, no banner ads to negotiate nor passwords to remember. Simply present the Amazon Go app at the gates and start shopping.
The range is typical of a 7-Eleven: a few essential groceries and toiletries but mostly snacks, breakfast items, sandwiches and salads. After a shopper walks through the gate, a bank of cameras and other sensors in the ceiling tracks her progress through the store. When an item is picked up, the same cameras recognise it and add it to the visitor's virtual shopping cart. Ten minutes after the shopper walks out the door, the app charges a credit card and provides a digital receipt.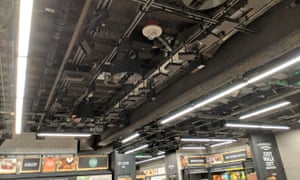 A bank of cameras and other sensors in the ceiling tracks shoppers through the store. Photograph: Mark Harris for the Guardian
On day one, the system was in full working order. I tried picking up and replacing a salad or two, then quickly slipped a box of tissues into my bag. The shop was not fooled. The app came up with the correct total, and even told me exactly how long I had spent inside, to the nearest second.
That speed and convenience is what Amazon Go's Just Walk Out Shopping is all about, says the company. It was easy to identify the company's employees, who have had access to the experimental shop for over a year. They rushed in, grabbed what they needed and were out again in less than 30 seconds.
Some first-time users were still getting used to the technology, however. "It was strange just walking out," said Paul Hamilton, visiting Seattle from Slough, in the UK. "Even though I knew how it worked, I wanted to look for checkout."
"This feels like the beginning of something really big," said Abrar Ali, who had popped into Amazon Go to pick up lunch for his job at a telecoms company in the Seattle suburbs. "It's at the cutting edge of AI and machine learning and I wanted to experience it for myself."
The implications for retail staffing are ominous. Cashier is the second-most-common job in the US, and self-checkout machines are far less common here than they are in Europe or Japan.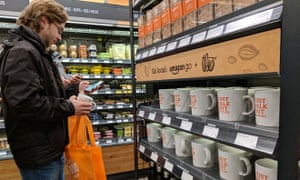 Atsushi Ueda, an engineer with Hitachi in Tokyo, eyed the Amazon Go shop in a professional capacity. "It was very smooth, very easy," he said. "We don't have anything like this in Japan yet but we're trying."
Over the past year, Amazon has made a big push into bricks and mortar retail, buying the high-end supermarket Whole Foods and restructuring its Amazon Fresh grocery service to include kerbside pickup as well as home delivery. It also has more than a dozen physical book stores across the US.
Amazon has not announced any plans to open other Amazon Go shops, but job listings suggest that a rollout beyond Seattle is possible. In December, Amazon advertised for a real estate manager to develop a strategic real estate plan and conduct field tours of potential locations for Amazon Go, with travel required.
However, Amazon Go's hi-tech solution is unlikely to work everywhere. A bank of four self-serve checkouts cost about $125,000 each and Amazon Go's serious computing power and hi-tech sensors are likely to cost significantly more. Amazon Go might be economic on the ground floor of Amazon's offices, where developers earn six-figure salaries. But you will probably still have to remember your wallet at most corner shops for a few more years yet.
Source: theguardian.com