Japan: fatal avalanche engulfs skiers after volcano erupts
Falling rocks from Kusatsu-Shirane, north-west of Tokyo, leave one dead and 12 injured.
A member of Japan's self-defence forces died and about a dozen skiers were injured after a volcano erupted near a ski resort, triggering an avalanche and sending rocks raining down on the slopes.
The skiers were injured when they became trapped by the avalanche or were hit by falling volcanic rocks from Mount Kusatsu-Shirane, according to local media. Five were seriously injured, but none was in a critical condition, rescuers said.
Five other members of Japan's ground self-defence force who were taking part in training manoeuvres in the area were rescued, some with injuries including fractures.
Three other people caught in the avalanche were also rescued, Japanese media said on Tuesday. Among the injured were four people hurt by shattered glass while on a gondola at the resort in Gunma, north-west of Tokyo. About 100 people were evacuated from the area.
"There was this huge boom, and a big plume of totally black smoke rose up," one skier told NHK. "I had absolutely no idea what had happened."
Kusatsu-Shirane, a 2,160-metre (7,090ft) volcano, appeared to have erupted on Tuesday morning, the Japanese meteorological agency (JMA) said.
The disaster agency warned that rocks could be thrown as far as 2km (1 mile) from the peak. Makoto Saito, an agency official, said there was a risk of further avalanches.
Video footage from the top of the resort's gondola showed black rocks plummeting through the sky, followed by a curtain of black smoke. A photograph shown on national broadcaster NHK showed a gondola with a shattered window.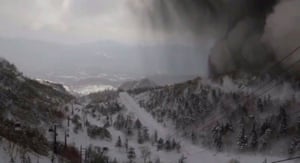 A black cloud moving in from the top right corner of the frame following a volcanic eruption nearby and a near-simultaneous avalanche, near Mount Kusatsu-Shirane. Photograph: KUSATSU SHIRANEYMA GONDOLA CAMERA / HANDOUT/EPA
It was unclear whether the avalanche was caused by the volcanic activity, but they occurred nearly simultaneously. "Based on various measurements, we can say that the mountain appears to have erupted, but we are still trying to confirm facts on the ground," a JMA official said.
The warning level for the peak was raised to 3, restricting entry due to large amounts of ash in the area, according to Kyodo News.
"It's very difficult to predict smaller eruptions such as the one that occurred today," said Yasuto Kuwahara, director of the Research Institute of Earthquake and Volcano Geology.
Kuwahara said it was not yet clear if the eruption had been caused by the interaction of magma or lava with water, or if it had been a phreatic eruption, which occurs when magma heats ground or surface water.
"There are many phenomena that precede a huge earthquake or volcanic eruption," he said. "We are able to identify some of the precursors, but there will always be cases when eruptions happen very abruptly. That was the case this morning. It would have been very difficult to predict and order an evacuation."
Kuwahara said he could not rule out a further, more severe, eruption.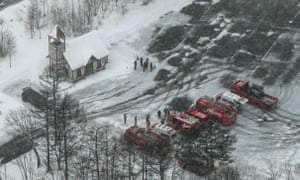 Ambulances and fire vehicles parked at a ski resort in the town of Kusatsu. Photograph: AFP/Getty Images
JMA said it had not raised the alert status earlier as it had not observed any data showing heightened volcanic activity before the eruption.
About 80 skiers took refuge at a gondola station at the top of the ski slope, according to Hayato Tobe, a regional fire department official.
Tobe said rescuers were considering using snowmobiles to bring down the stranded skiers, but that the operation could be complicated by snowy slopes strewn with volcanic ash and rocks.
The agency said it was unlikely that ash deposits would reach Kusatsu.
Four people riding a gondola on the slopes were injured by broken glass, Japan's chief cabinet secretary, Yoshihide Suga, told a news conference, but he had no further details.
Japan has 110 active volcanoes and monitors 47 of them around the clock. In September 2014, 63 people were killed on Mount Ontake, the worst volcanic disaster in Japan for nearly 90 years.
Source: theguardian.com