The Drug Kingpin Running Venezuela's Bond Negotiations
By
Patricia Laya
and
                                                       Andrew Rosat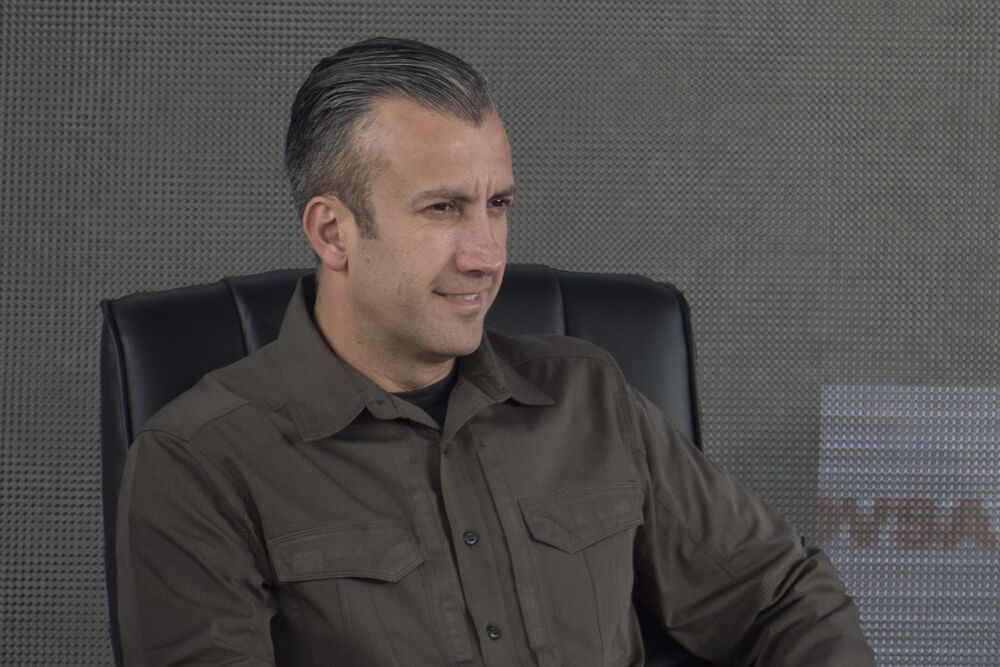 Vice President Tareck El Aissami has summoned bondholders to a meeting in Caracas as Venezuela prepares to restructure its crushing debt. For some, the meeting could land them behind bars.
El Aissami, sanctioned by the U.S. Treasury Department this year after accusations he oversaw a cocaine-smuggling network, is one of the nation's iron-fisted political operatives. Often in charge of delivering President Nicolas Maduro's most critical messages, he blasts critics publicly, exposing supposed conspiracy rings and threatening legal action against dissident leaders from National Assembly President Julio Borges to Luisa Ortega, the public-prosecutor-turned-whistle-blower.
Now, he's in charge of a delicate financial dance in which investors and funds risk running afoul of the U.S. Office of Foreign Assets. Not only do U.S. sanctions prohibit Americans from receiving new bonds that Venezuela would hand them as part of a restructuring, but El Aissami is designated as a narcotics trafficker under the Kingpin Act. American corporate officers dealing with him run the risk of fines and prosecution of as much as $5 million and 30 years in prison.
"Nobody will want to go near something that could be an OFAC violation," said Robert Koenigsberger, chief investment officer at Gramercy Funds Management, which dumped its Venezuela debt a year ago. "If the Venezuelans say, 'We want to talk over the restructuring with you,' I'd say, 'I'm not letting you in the building.' I like sleeping in my own bed at night."
Right-Hand Man
Maduro, the handpicked successor of the late socialist firebrand Hugo Chavez, had rejected calls to default after the price of oil, Venezuela's lifeblood, collapsed three years ago and the economy crumbled under the weight of rigid government controls. The bonds had enriched Wall Street traders even as Venezuelans went hungry, and they were one of the more profitable trades in emerging markets. Now, though, even Maduro has determined that the debt load is unsustainable, and creditors must deal with an unpalatable negotiating partner.
El Aissami sat by Maduro last week during a marathon televised address in which the president said a $1.1 billion principal payment on bonds from state-run oil company PDVSA that was due Thursday would be the last one made before the country begins talks with creditors.
"We will convene a renegotiation of our sovereign debt, a refinancing that will open up our horizons to keep investing in our social model, to keep guaranteeing the people's protection of wages, labor and medicine," El Aissami said. He called it a "historic and sovereign decision."
No Celebration
Venezuelan debt is teetering toward default, with average prices near 30 cents on the dollar, a record 40.8 percentage points of extra yield over U.S. Treasury bills to hold the country's bonds.
Far from Wall Street, reaction was similarly unenthusiastic.
"Look, I don't know what to say about the accusations; everyone's got an opinion of him, but I don't trust him," said Luis Hernandez, 41, a bus driver in the sprawling Caracas slum of Petare. "Things are bad: There are no tires, no work, we're against the wall and he's the one negotiating? It feels like we've been abandoned and it will only get worse."
El Aissami is tall, handsome and fit, married with two young children and often surrounded by personally selected guards. Among the accusations in February's sanction, the Treasury Department said he had control of planes that flew more than 1,000 kilograms of cocaine out of Venezuela and coordinated shipments with Mexico's Zetas cartel.
The office of the vice president did not respond to calls requesting comment. But El Aissami, 42, has denied any drug ties, saying they are a slander, and he has offered to hand himself over to authorities if anyone could produce proof.
Clawing Upward
El Aissami climbed from student leader in rural Venezuela to the country's number two power broker in just over a decade. The son of Syrian and Lebanese immigrants, El Aissami was one of five children raised Druze in Venezuela's Andes mountains. His father, a leader of the small local Ba'athist party, sold shoes and furniture and played a supporting role in Chavez's failed 1992 coup attempt and again, six years later, in his successful presidential bid.
Shortly after the botched coup, El Aissami helped lead a leftist student movement at university, where he studied criminology and law. When El Aissami competed in student elections, his opponents said he brought in armed gangs to intimidate them. Then, they say, when he forgot to register for re-election, he phoned a local political boss with a plan to rig the vote. A former running mate named Nixon Moreno fled the country after breaking ranks and defeating El Aissami.
El Aissami met Chavez when he was a student and became one of the staunchest supporters of the repressive project called Chavismo. As a governor, he regularly denounced opponents as traitors looking to stoke unrest. A court in his Aragua state annulled a recall referendum there, charging the opposition with collecting fraudulent signatures. He openly celebrated the 9/11 terrorist attacks on the U.S., according to three witnesses.
Caracas Crackdown
This year, during months of bloody protests that rocked the capital of Caracas, El Aissami called the opposition a "right wing, made up of terrorist leaders."
Venezuela's government has intensified its crackdown on critics, including raids on politicians' homes and orders of arrest. The Venezuelan chapter of Transparency International says that 40 of 77 opposition mayors have been threatened or punished by the government since 2013, with some removed and jailed, some having their powers curtailed and some barred from leaving the country.
The U.S. has retaliated by attempting to punish the nation's leaders while sparing its long-suffering people. Acting finance minister Simon Zerpa, also PDVSA's chief financial officer and member of the bond restructuring committee, was sanctioned this year as well.
Now, financiers must decide whether to deal with such officials in hopes of recouping their investments. El Aissami's appointment may just be a way for the government to pressure the U.S. by giving creditors a motive to lobby for relaxed sanctions, said Francisco Ghersi, managing director of Knossos Asset Management.
"They are basically assigning the discussion with bondholders to the most radioactive member of the Venezuelan government," said Daniel Lansberg-Rodriguez, who teaches at Northwestern University's Kellogg School of Management. "That's not a figure you can imagine people in New York, hedge funds, bankers sitting at a table with, trying to hash out some sort of a refinancing or a restructuring that would work."Source: www.bloomberg.com
— With assistance by Ben Bartenstein, Daniela Guzman, Katia Porzecanski, and Fabiola Zerpa