Exclusive: Banco Sabadell mulls moving top management from Catalonia
Jesús Aguado
MADRID (Reuters) – Banco Sabadell (

SABE.MC

) is considering moving some of its top management from Catalonia to Madrid, a source close to the board said on Tuesday, in a first sign that a short-term business exodus from the restive region may become more permanent.
Like hundreds of other Catalan businesses, Sabadell, Spain's fifth-biggest bank, transferred its registered offices out of Catalonia earlier this month to seek legal certainty as the region's leaders press ahead with a secession campaign.
An eventual break from Spain would leave Catalonia, which accounts for one-fifth of the country's economic output, outside the European Union and the consumer protections it offers — a source of concern for many depositors and companies.
The source said that if Catalan president Carles Puigdemont did not drop its independence plans by Thursday, as requested by Spain's central government, the bank's board would consider at its next meeting on Oct. 26 moving the office of Chairman Josep Oliu and the heads of several business units to Madrid.
"No decision has yet been made, but it will depend on the next steps that could be taken by Puigdemont," the source said.
Banco Sabadell declined to comment.
The board meeting will for the first time take place in Alicante, 500 kilometers away from Sabadell, the town near the Catalan capital Barcelona where the bank was founded in 1881.
Sabadell's quarterly results presentation will take place in Madrid the next day.
While the number of people likely to move from Catalonia to the Spanish capital would be only a tiny portion of Sabadell's 26,000 employees, such a decision would be a new blow for the Catalan government, which has said the business exodus was purely temporary and would soon be reverted.
Catalan powerhouse Caixabank (
CABK.MC

), Spain's third-biggest lender, which also moved its registered offices out of the region, is not planning to follow Sabadell for now, though a source at the bank said it was monitoring events closely.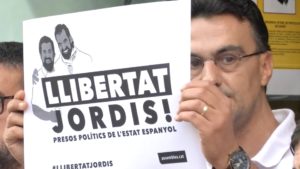 Caixabank holds its next board meeting on Oct. 23 in Valencia, where it will also present third-quarter earnings the following day.
Caixabank, Sabadell and BBVA (
BBVA.MC

) are the most exposed to Catalonia among Spanish lenders, with around one-third of their total deposits coming from the region, and their shares have underperformed their Spanish and European peers.
Last week, Spanish banks stocked up on European Central Bank money at a weekly auction, on concern about possible turmoil in the funding market if Catalonia does break away from Spain.
Source: reuters.com