British Virgin Islands brave two storms in two weeks: 'Maria destroyed most of what was left'
Alex Dick-Read in Great Mountain, British Virgin Islands
Residents of the tiny British territory begin to pick up the pieces after multiple hurricanes, and life returns to an uneasy mix of the brutal and the banal.
Dawn over the British Virgin Islands (BVI) brought with it the final blows of Hurricane Maria – the second category 5 hurricane to assault the islands in two weeks.
Winds of 50 to 60mph still whipped up the steep slopes and waves continued to batter the islands' southern shores after another night of hurricane-force winds.
And as day broke on Wednesday, residents of the tiny British territory were left considering a fresh round of destruction.
"Irma did a lot of damage but, for me, Maria finished the job," said Karon Brown, 29, a resident of Great Mountain on the island of Tortola.
"We already had flooding inside the house and lost most of our possessions in Irma. Before Maria came, we boarded the house up and tried to secure what remained. But Maria just ripped it all off – damaged the building more and destroyed most of what was left."
All of Brown's remaining possessions are stored in the back of her small Suzuki. And she is sleeping on the floor of the office where she normally works as an administrative assistant. "My boss offered me to come and stay at his house, but I'm allergic to dogs, so he said I could stay in the office."
Like many residents of the islands, Brown is keen to leave as soon as possible. "I want to get to my family in New York. The government and everyone is doing a great job of clearing up but if I am homeless and don't have anywhere to go, I will just be a burden."
For now, however, Brown will not be going anywhere: the airport remains closed to commercial flights, and only open to charter and government evacuations, as well as for incoming aid supplies.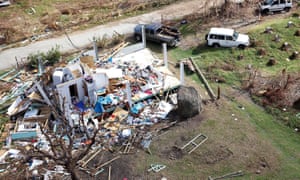 But at the National Emergency Operations Center, the consensus was that the BVI had been somewhat lucky.
And despite the enormous challenges ahead, the island's premier, Orlando Smith, was upbeat as the morning progressed.
"Last night we were fortunate, thank God, that the effects of Hurricane Maria were not nearly as severe as Hurricane Irma. There were very high gusts, but as far as I can determine, there was not a lot of more damage over the territory as a whole, and so far no major casualties have been reported, either. There were large storm surges on the western end of the islands but on the whole we have been lucky."
Smith repeated calls for people to stay indoors until the storm finally moved out of the area. The local authorities had enforced a much stricter curfew, hoping to prevent the widespread looting that followed Irma.
Asked if the UK planned to offer any more aid money to the islands after Maria, the premier was circumspect. "The British government have been really good partners in this effort … but the situation is still fluid. I know the British government has promised to assist with all the islands that were seriously affected. So we'll have to see to what extent the overseas territories are particularly affected."
"The BVI is tough. And if there wasn't unity before, we going to find it now, that's for sure"
Much of the UK military's work here has been humanitarian relief work, including simple hard labor. Soldiers can be seen digging, sweeping, and cutting down fallen power poles. They have been helped by the BVI Red Cross, whose team of volunteers has moved from search and rescue missions to providing shelter, clothing and medical care.
"We did a lot of search and rescue after Irma because we had the only vehicles that could get around," said Geoff Brooks, a senior member of the BVI's Red Cross team. "Since then, we've been keeping up with the shelters and making sure they are stocked and monitoring how many people are in there so we know what food and supplies are needed, so we don't send too much or too little."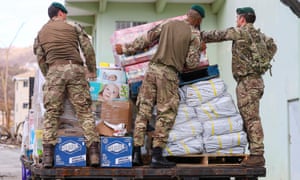 Mobile phone coverage is still down in most of the the islands so wherever a signal could be found, groups of people gathered, exchanging news at impromptu community hubs.
In the wider information vacuum, the Red Cross has been a crucial link for many helping to log the missing and passing on news to separated family members.
Even despite the huge clean-up efforts of the government, army, aid groups, and people helping each other on the ground, the main island of Tortola still resembles a bomb site. In every direction there are roofless buildings, piles of galvanised sheet metal, upturned and smashed cars and broken and leafless trees. In a small territory that sells itself on its natural beauty, it is hard for most to see how normality will be restored before the next tourist season, in November.
Meanwhile, daily life is a mix between the bizarre and the banal. Early on Wednesday, Bradford Prince, 55, was trying to start his car in the capital Road Town. "I'm trying to move it to a safer place," he said. "There are still people looting, especially for tires and other parts."
Like almost everyone, Prince – a popular reggae singer and employee of the public works department – has a hurricane tale to tell.
He lost his entire house. Asked if he had been in it during the storm, he laughed and said: "No way! If I was in it, I'd be dead."
He stayed in a neighbour's house, until the roof blew away and he was forced to shelter in a walk-in wardrobe with five others. "We going to be alright, man. The BVI is tough. And if there wasn't unity before, we going to find it now, that's for sure. We've got life, so we have got everything."
Source: theguardian.com