Total solar eclipse wows crowds across the US
By

Morgan Winsor
A historic total solar eclipse arced across the United States from west to east Monday, as millions of people who gathered in its relatively narrow path of totality watched in awe.
The total solar eclipse was first visible in the U.S. over Lincoln City, Oregon. Crowds of people donning special solar filters cheered and roared as the moon completely blocked the sun and cast a 70-mile wide shadow that traveled from Oregon to South Carolina.
Briefly, various U.S. cities plunged into darkness, and temperatures dropped as much as 12 degrees. The sun's corona, or outer atmosphere, which is usually obscured by glare, appeared as a ring of ethereal white wisps around the moon while it blocked the sun.
In areas with clear skies, bright stars and planets appeared in the darkened daytime sky. And as the sun re-emerged from behind the moon, it created an astonishing diamond ring effect, with one bright spot of the sun shining at one end of the corona.
"Experiencing an eclipse changes the way we feel about space and how we are connected. I hope this moment reminds us all that we share a common origin among the stars and that we are all citizens of the same planet," Bill Nye said in a statement Monday morning. He is the CEO of the Planetary Society and is also known as "the Science Guy."
A total solar eclipse occurs when the moon moves directly between the sun and Earth, lasting up to three hours. Monday's total solar eclipse was particularly rare because it was the first time in 99 years that the path of totality exclusively crossed the continental United States. It was the first continent-wide eclipse to be visible only from the U.S. since 1776.
The last time the contiguous United States saw a total solar eclipse was Feb. 26, 1979, when the path of totality crossed the Pacific Northwest. ABC News' Frank Reynolds anchored a special report on the celestial phenomenon at the time and pledged that the network would cover the next total solar eclipse in 2017.
"So that's it, the last solar eclipse to be seen on this continent in this century. And as I said, not until Aug. 21, 2017, will another eclipse be visible from North America. That's 38 years from now. May the shadow of the moon fall on a world in peace. ABC News, of course, will bring you a complete report on that next eclipse 38 years from now," Reynolds said before signing off.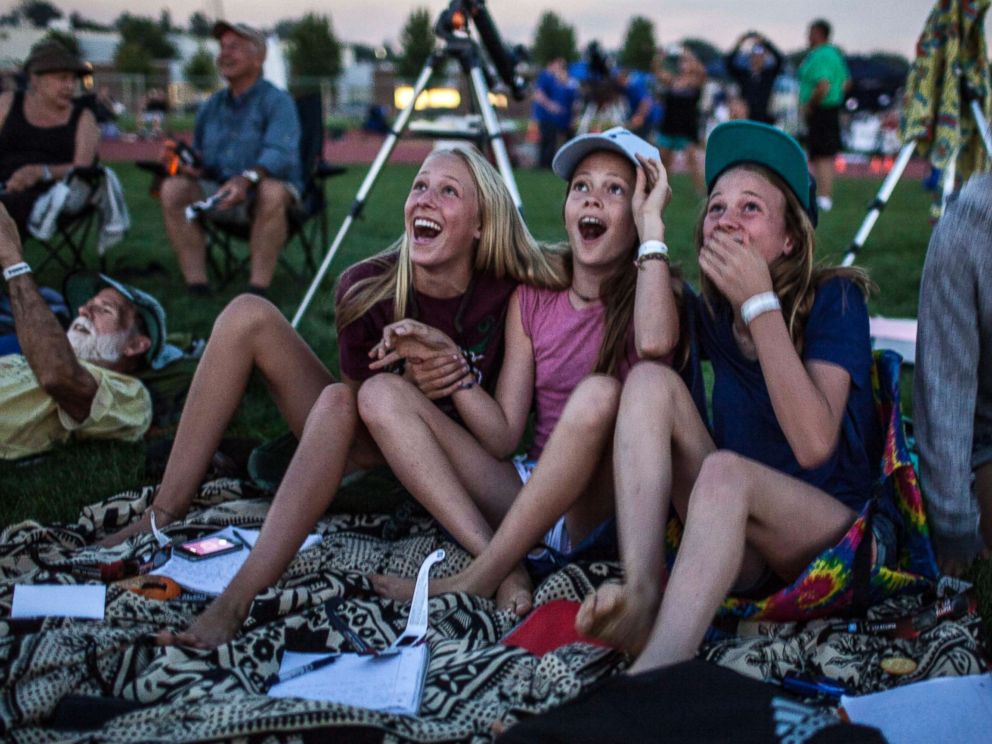 A total solar eclipse is visible only within a band called the path of totality. NASA estimated that more than 300 million people in the United States could have viewed Monday's total solar eclipse.
However, a partial solar eclipse was visible in every U.S. state. In fact, all of North America, as well as parts of South America, Africa and Europe, had a view of at least a partial eclipse, according to NASA.
"While this total eclipse will pass right over the U.S., it really is an event for everyone on Earth," Nye said. "Whether in the path of totality or partial eclipse zones, millions of people across multiple continents will pause from our normal activities to look up at our sun, moon and sky."
The path of totality for Monday's solar eclipse crossed the United States from west to east, sweeping over portions of 14 U.S. states: Oregon, Idaho, Wyoming, Montana, Nebraska, Iowa, Kansas, Missouri, Illinois, Kentucky, Tennessee, Georgia, North Carolina and South Carolina.
The moon started to eclipse the sun over the West Coast just after 9 a.m. PT. From there, it raced across the country and left the East Coast just after 4 p.m. ET.
The exact times for partial and total phases of Monday's eclipse varied, depending on one's location.
With millions of people pouring into the U.S. cities within the path of totality, law enforcement, emergency personnel and hospitals there were on high alert.
"It's all hands on deck," Kentucky's Madisonville Police Chief Wade Williams told ABC News. "We're kind of throwing everything at it."
Oregon alone anticipated a million visitors Monday, leading some local hospitals to cancel elective surgeries and call in extra help for emergency rooms. Some cities even pre-emptively declared a state of disaster, which allows the National Guard to help direct large crowds if needed.
"If a police department in a certain area is overwhelmed and they need us to help come and set up traffic control check points, we're ready to do that," Oregon National Guard spokesperson Leslie Reed told ABC News.
More than than 17,000 cars and SUVs were rented for Monday at Oregon's Portland International Airport — normally the number of rentals for an entire week.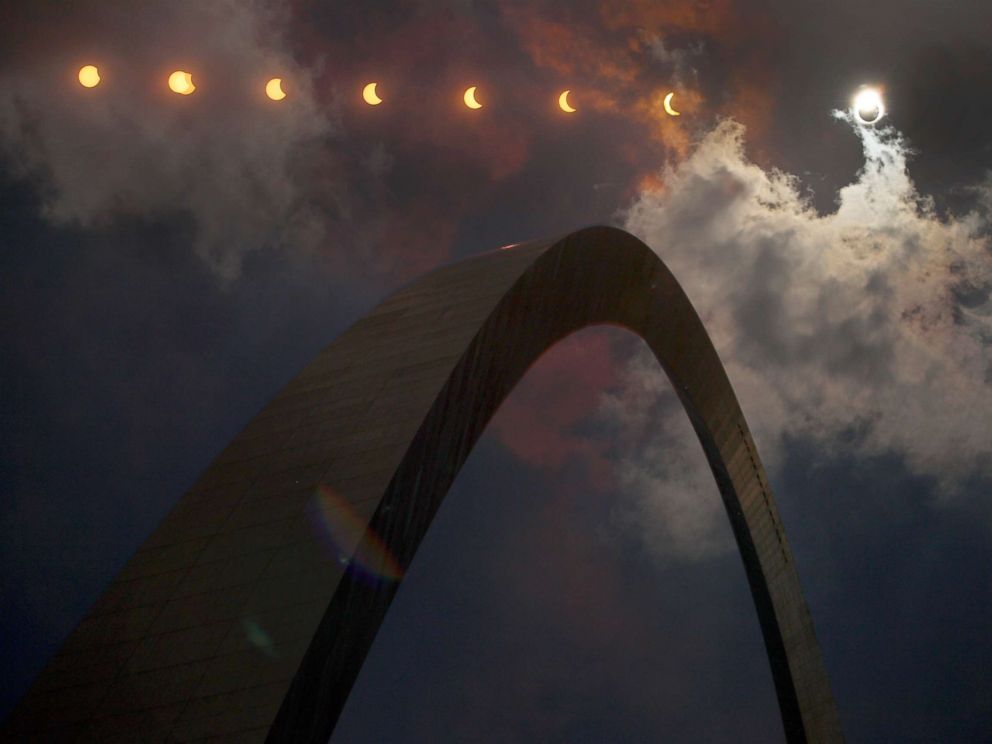 In northeastern Georgia, the mountain town of Blairsville expected to host up to 200 percent more people than the number of residents. The town's hotels were fully booked, and camping sites were sold out for Monday.
"There is no reason to panic," Blairsville-Union County Chamber of Commerce tourism director Tobie Chandler told ABC News. "We are not going to run out of gas. We are not going to run out of groceries. We just need to enjoy this event."
The American Red Cross set up resources along the path of totality to help keep people safe during the rare celestial event.
"One thing is we really encourage folks to have in their cars an emergency go kit, and that should include things like water, nonperishable foods, a flashlight with batteries and an envelope with cash," said Josh Lockwood, the Greater New York regional CEO for the American Red Cross.
ABC News' Steve Osunami, Gina Sunseri and Ariella Weintraub contributed to this report.