Samsung heir sentenced to five years in jail after corruption conviction
Justin McCurry in Tokyo and agencies in Seoul
South Korean court sentences Lee Jae-yong over role in scandal that led to impeachment of former president Park Guen-hye.
A bribery and cronyism scandal that has already toppled a South Korean president has claimed a major business scalp after a court sentenced Lee Jae-yong, the acting chairman of Samsung, to five years in prison for crimes including offering bribes and perjury.
The billionaire, South Korea's third-richest man and heir to the sprawling Samsung empire, had been accused of making large donations to foundations run by a close friend and confidante of the deposed South Korean president, Park Geun-hye, in return for political favours.
The court said Lee provided bribes anticipating support from Park, who was still president at the time, according to South Korea's Yonhap news agency.
Lee's lawyers said they would appeal. "As a lawyer I cannot possibly agree with the juridical decisions and acknowledged facts involved in the verdict," the Samsung attorney Song Woo-cheo said outside the court.
"We will appeal against the decision and I am sure that in the appellate trial all the charges will be dismissed."
 Samsung lawyer criticises Lee Jae-yong verdict – video
Lee's case could end up being decided by the country's supreme court, possibly next year.
Lee showed no reaction as the court found him guilty of bribery, embezzlement, hiding assets overseas, concealing profit from criminal acts and perjury.
Earlier, South Korean TV followed him on his journey from a detention centre to the court. He emerged from a justice ministry bus in handcuffs, with white rope around his jacket, and carrying an envelope of documents.
There was huge public pressure on the court to deliver a guilty verdict after the wide-ranging scandal swirling around Park ended in her impeachment last year and calls for South Korea to address decades of collusive ties between senior politicians and family-run conglomerates, or chaebol.
While the 49-year-old, who is also known as Jay Y Lee, was spared the 12-year term demanded by prosecutors, his sentence is the longest given to any South Korean chaebol leader.
Four other top Samsung executives were also convicted and received sentences of up to four years.
Lee's conviction could also have consequences for Park, given that their cases are so closely linked. Park faces a possible life sentence when a ruling in her case is given later this year.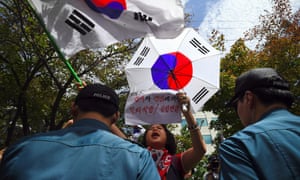 More than 400 people applied for the 30 seats in the public gallery to witness what South Korean media billed as the "trial of the century".
Outside, hundreds of riot police were deployed to prevent confrontations between critics and supporters of Lee and Park, a former dictator's daughter who was elected South Korean's first female president in late 2012 and took office in February 2013.
Despite claims by his legal team that Lee had little involvement in the day-to-day running of Samsung, the court ruled that he had approved donations to Park's friend, Choi Soon-sil, in return for securing government support for the contentious merger of two Samsung affiliates that would strengthen his control over the group.
Source: theguardian.com