CARICOM countries decide to ignore the Venezuelan tragedy
By
Gustavo Coronel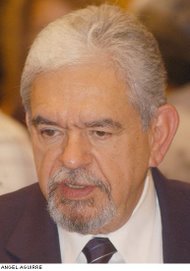 The 15 member countries of CARICOM, the Caribbean Community have officially decided to look the other way regarding the Venezuelan tragedy. While over one hundred Venezuelan youth have been killed by the repressive forces of the narco-regime, while thousands have been wounded and many are prisoners subject to psychological or physical torture, the member countries of CARICOM have declared their determination not to "interfere" in the internal affairs of a "sovereign" state. While there is ample evidence that the regime has systematically violated the constitution of the country, the vice-president is a terrorist, the minister of the interior a drug trafficker and corruption is rampant in the country's public administration, the members of CARICOM have "virtuously" decided not to denounce the crimes of this regimen claiming that this would represent an "interference". I have no doubt that the immoral cowards who lead CARICOM would walk by a woman being assassinated by a drunk husband because that would interfere in a domestic quarrel.
Members of CARICOM have no hesitated to receive huge amounts of subsidized or even free oil from the narco-regime in exchange for their political loyalty. The name for this perverse symbiosis is prostitution, an exchange of favors for money. Today, confronted with the need to act according to the principles that regulate the charter of the OAS these mercenaries have decided to wash their hands off the Venezuelan tragedy. But they will not be able to wash the blood from their hands.
This dishonorable action by CARICOM will not be forgotten by Venezuelan democracy. As soon as the current narco-regime is gone from power the new democratic governments of Venezuela should cut all oil deliveries to the members of CARICOM that have been bribed by the narco-regime for some years and should refrain from giving any further assistance to the mercenaries.
What CARICOM has decided is not diplomacy, is an unprincipled action that will be repudiated by all honest and decent members of the regional community. Those selfish cowards have closed their eyes to the fact that Venezuela is not a sovereign state but one in which the institutions have been co-opted by a gang of armed criminals under the tutelage of Castro's Cuba.