Taco Bell Power Menu Burrito Recipe

If you enjoy the Power Menu burrito from Taco Bell you may want to give this recipe a try. This burrito consists of marinated grilled chicken, romaine lettuce, cheese, guacamole, sour cream, pico de gallo and avocado ranch dressing wrapped up in a tortilla. To save a little time I you can use premade guacamole and pico de gallo. You may also be able to find avocado ranch dressing in the store now. The best part about this recipe is the citrus grilled chicken. The chicken is marinated in ingredients such as tomatillo, cilantro, garlic and chili pepper. Enjoy.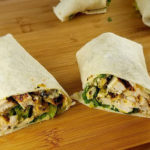 Ingredients:
Yield: 8 Servings
Chicken Marinade-
1 fresh tomatillo

1 white onion, cut into quarters

½ fresh Anaheim Green Chile, seeds and veins removed

3 cloves fresh garlic

2 tsp olive oil

1 ½ tablespoon fresh lemon juice

½ cup chicken broth

1 teaspoon salt

2 teaspoon sugar

1 teaspoon onion powder

½ teaspoon paprika

½ teaspoon ground black pepper

2 Tablespoon fresh chopped cilantro

1 Tablespoon fresh chopped parsley

4 large boneless, skinless chicken breasts
Avocado-Ranch Dressing-
1/8 cup ranch dressing

1/8 cup buttermilk

½ avocado

2 pinches salt

2 tablespoons sour cream
Other-
1 cup prepared guacamole

1 cup prepared pico de gallo

Shredded Colby-jack cheese

2 cups chopped romaine lettuce

Sour cream

8 large flour tortillas
Directions:
In a blender combine all of the ingredients for the marinade. Process until smooth and pour into a large zip lock bag. Add the chicken breasts and seal the bag. Place into the refrigerator and allow the chicken to marinate for at least 8 hours.

In a blender combine avocado, ranch dressing, buttermilk, salt and sour cream. Blend until smooth. Cover and refrigerate until needed.

Lightly grease the grates of an outdoor grill. Heat the grill to medium-high. Remove the chicken breasts from the marinade and place onto the grill. Cook, turning at least once, for about 5-6 minutes per-side or until fully cooked (the internal temperature has reached 165 degrees F.). Remove the chicken from the grill and slice it into thin strips.

Spread a little of the avocado ranch dressing onto the center of a tortilla. Add some romaine lettuce, some of the grilled chicken pieces, add on some cheese and a little guacamole, sour cream and pico. Roll up into a burrito.