Venezuela political prisoners 'revolt' at Caracas jail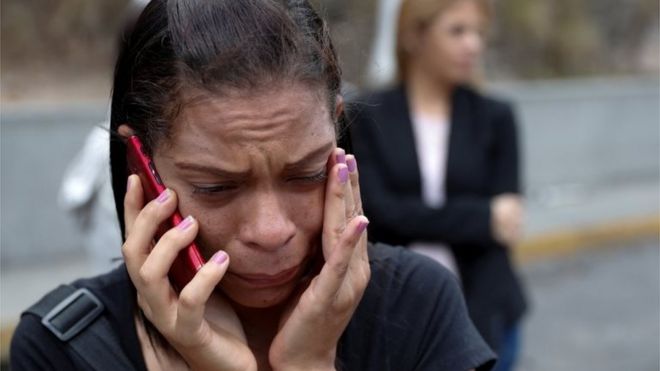 Relatives of political prisoners held in one of Venezuela's most notorious prisons say the inmates have staged an uprising.
Inmates held at El Helicoide, the headquarters of Venezuela's secret service, say they took over part of its cell blocks.
They say they did so after a political prisoner was beaten.
More than 300 political prisoners are being held in Venezuela, according to pressure group Foro Penal.
Swollen face
There is no official information about what happened at the Helicoide, the massive former shopping centre in central Caracas which houses Venezuela's secret service (Sebin).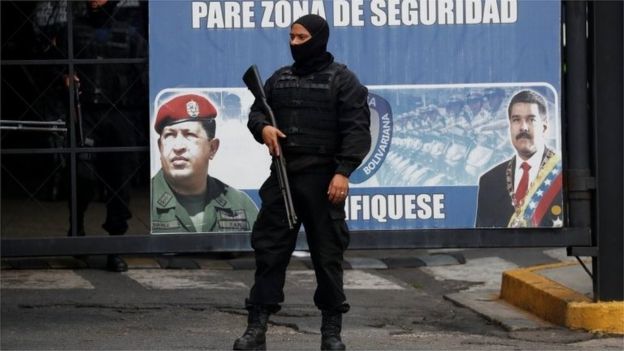 But people with close links to the political prisoners held there said the uprising had started after Gregory Sanabria was beaten up, allegedly by a non-political prisoner.
The Sebin cells hold more than 300 inmates, with political prisoners and people accused of ordinary crimes locked up alongside each other. Many of the jailed opposition leaders have been accused of incitement to violence and vandalism, which the government argues are not politically motivated.
Photos on social media show the swollen face of Mr Sanabria, a student held in El Helicoide pending trial ever since he took part in mass anti-government protest in 2014.
  Patricia Ceballos's husband Daniel is inside the jail
According to Patricia Ceballos, whose husband Daniel is one of the political prisoners inside El Helicoide, the beating triggered a protest which was met with tear gas by the National Guard and riot police.
Mr Ceballos, the former opposition mayor of the western city of San Cristóbal, said the inmates had taken control of parts of the jail.
"We're demanding that all political prisoner be freed, all of us who have been held here, kidnapped for years without justice or due process," he told CNN via telephone from inside the jail.
'I need help'
Joshua Holt, a US citizen held at the jail for two years pending trial, pleaded for help in a video message sent as the uprising was apparently going on.
Mr Holt, a former Mormon missionary from Utah, travelled to Caracas in June 2016 to marry his Venezuelan girlfriend.
While waiting for their US visas, Mr Holt and his wife were detained in her family's house in Caracas and accused of hiding weapons.
Mr Holt said he was fearing for his life.
"They're outside, they're trying to break in, they're saying they're going to kill me," the 26-year-old said as shouts could be heard.
In a second video he addressed his compatriots directly, asking them to help free him.
The US embassy in Caracas tweeted that it was "very worried about the rebellion".
"Joshua Holt and other US citizens are in danger," it said in a tweet in Spanish. "The Venezuelan government is directly responsible for their security and we will hold them responsible if anything happens to them."
Estamos muy preocupados por el motín en El Helicoide. Joshua Holt y otros ciudadanos estadounidenses están en peligro. El gobierno de Venezuela es directamente responsable por su seguridad y le haremos responsables si algo les sucede.

— Embajada Virtual de los EE.UU., Venezuela (@usembassyve) May 16, 2018
Political prisoners have long been complaining about the conditions they are held in and pressure groups inside Venezuela as well as abroad have called on the government of President Nicolás Maduro to free them but so far this has had little impact.