Cambridge Analytica taken to court over data storage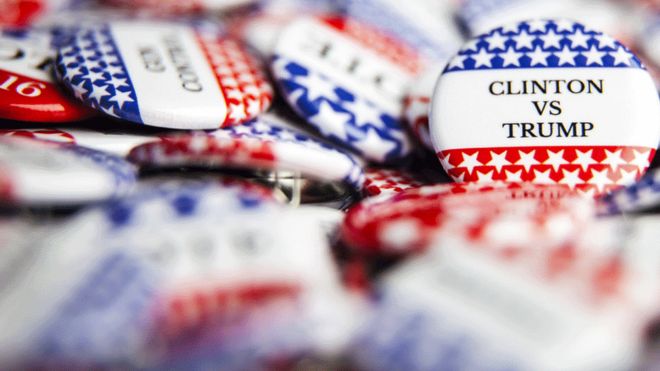 A US citizen is taking Cambridge Analytica to court to get access to data he says it holds on him.
Prof David Carroll filed his legal challenge on the same day Facebook announced it had banned the company from its network.
He also wants Cambridge Analytica to disclose how it came up with the psychographic profile it had on him.
Legal experts believe the case could set a precedent for how such companies collect data.
Prof Carroll, who is an associate professor at Parsons School of Design in New York, requested a breakdown of the data Cambridge Analytica held on him when it emerged the company had built profiles up to 240 million Americans.
He received some data points in March last year, including a set of scores ranking him:
three out of ten on gun rights

seven out of 10 on national security importance

unlikely to vote Republican
"I discovered the depth of accurate information they held about me, including modelling my political beliefs," wrote Prof Carroll.
But at the same time, he told the BBC he also found the information "hard to interpret".
He also felt that the data was incomplete, partly because the company itself had boasted that it had 4,00 to 5,000 data points on each voter.
Taking advice from lawyers, he decided to take legal action to require the company to hand over all the data he believed it had on him.
As the company named as Cambridge Analytica's data controller was based in the UK, Prof Carroll brought the case at the High Court in London.
He also filed a complaint with the UK's Information Commissioner's Office.
On the crowdfunding site where Prof Carroll is raising money to fund his case, he wrote: "We are fighting for a legal principle that, in an age of unlimited access to personal data, is fundamental: companies cannot use your data in any way they see fit.
"Your data is yours and you have a right to control its use."
Crucial moment
Cambridge Analytica, which has repeatedly said it did nothing wrong in the way it processed data, is under fire for allegedly using the personal information of millions of Facebook users for political campaigning, without their consent or knowledge.
The company could not be reached for comment.
The scandal has also plunged Facebook into crisis, with founder Mark Zuckerberg admitting that "a breach of trust" had occurred between the social network and its users.
Many legal experts believe that it could be a landmark case, especially as it comes in the midst of a major crisis for Facebook, which stands accused of failing to carry out appropriate checks on how data harvested from its users was being used.
"It could be a crucial moment," said Dr Paul Bernal, a lecturer in information technology and media law at the University of East Anglia.
"But this case will only be pivotal if it produces other actions.
"Facebook has faced other storms of this kind before – but now it faces legal action and regulatory action and has to portray itself as not the really bad guy, which will mean changing its policies."
Other key internet figures have also been speaking about the crisis.
The inventor of the world wide web, Sir Tim Berners-Lee, said the crisis was "a pivotal moment for the internet" and urged Mr Zuckerberg to "fix" the issues around data sharing.
"It won't be easy – but if companies work with governments, activists, academics and web users we can make sure platforms serve humanity," he tweeted.