Brazil army ordered to take over security in violent Rio de Janeiro
 Pedro Fonseca, Alexandra Alper
RIO DE JANEIRO (Reuters) – Brazil's federal government on Friday ordered the army to take over command of police forces in Rio de Janeiro state in a bid to curb violence driven by drug gangs, who have "virtually taken over" Rio's metropolitan area of 12 million people, President Michel Temer said in announcing the decree.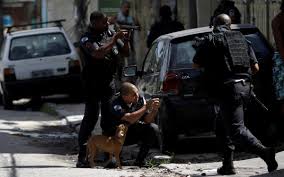 The emergency measure could delay a vote in Congress on pension legislation, the Temer government's flagship reform.
The bill, designed to address the pension system's massive deficit, requires an amendment to the constitution, which is banned during any such federal intervention.
Deadly violence in Rio de Janeiro has spiked in recent years, with an 8 percent increase in killings last year over 2016 and a 26 percent jump since 2015, according to statistics from the Rio state government.
The army has already been employed in Rio in recent years in an effort to quell violence, mainly centered on slums in Rio's metropolitan area. There, powerful drug gangs and paramilitary militias battle each other for turf, while all confront police.
There are intense, daily shootouts in Rio's poorer areas, and that violence has increasingly begun to affect the city's richer and relatively safer areas.
During Carnival celebrations that ended on Wednesday, images of gangs of young men surrounding and robbing tourists en masse were repeatedly broadcast on national TV, adding to concerns the city's security situation had spiralled out of control.
Eduardo Silva, a 21-year-old electrician taking a break in central Rio, said having the army in charge would lead to more shootouts, and innocents caught up in the crossfire.
"There will more deaths than we already have," he said.
But Rogerio Marin, a 30-year-old telecommunications worker, said the order "should have been made much earlier."
"They waited for the worst to happen, and only now will see what they can do to help Rio," Marin said.
PENSION PROBLEMS
Temer, who is due to step down at the end of the year following elections in October, has pushed to hold a vote on the unpopular pension reform by the end of this month before Congressmen start to focus on their reelection.
However, his top ministers acknowledge they still lack 40 votes to pass a watered-down version of the unpopular measure through the lower house of Congress.
Temer said it would still be possible to vote on pension reform through a technicality – he said he would simply lift the decree on Rio security for the time needed for any vote to take place.
Legislation to streamline Brazil's costly social security system has been lined up for a first crucial vote in the lower house of Congress next week.
It is being watched closely by investors worried about the government's ability to bring a huge budget deficit under control and avoid a further credit rating downgrade.