10 of the best small islands in Croatia
Kathryn Tomasetti
These Adriatic islets, many sparsely populated and little visited, are perfect for boat rides, great walking trails, lovely beaches and the odd bit of culture.
Lopud
An hour's ferry ride from Dubrovnik, Lopud is a world away from the city's bustle. Panoramic views take in mountains and deep-blue waters, from the surrounding Elaphiti archipelago to the Croatian mainland beyond. Just 220 year-round residents share this car-free island, which measures less than 5 sq km. A sweep of seafront promenade – with waterside restaurants, petite boutiques and ice-cream shops – traces Lopud's northern bay. A 15-minute hike south over the hills sits Šunj Bay, a splendid and rare arc of silky sand that shelves gradually into the surf. The island truly comes into its own in the early evening, once the last daytrippers have set sail for the mainland.

•
Where to stay: built in the 1960s, Lafodia Sea Resort resembles a futuristic cruise ship (doubles from €80 a night B&B, lafodiahotel.com)
Sveti Nikola
Sveti Nikola is Croatia's northernmost island. Blanketed in pine forests and ringed by 2km of crystal-clear coastline, the petite island is uninhabited except for a hotel resort, built in 2015. But anyone can visit for the day on the – free – hourly shuttle boat from Poreč Old Town. A fragrant path loops around the island, while Blue Flag beaches include the pebble swoosh of Oliva. As the waters are a protected marine park, snorkelling is excellent; dolphins are regulars in July and August. The island was once privately owned by a Venetian trading family, who built the elegant castle and restored the 14th-century lighthouse (Croatia's oldest), which hotel guests can tour every Sunday morning.

•
Where to stay: Valamar Hotel Isabella (doubles from €239 a night half-board, valamar.com)
Veliki Brijun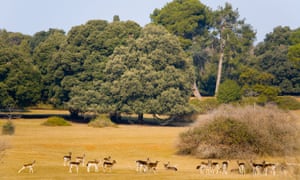 The Brijuini Islands were once the summer retreat of former Yugoslav president Tito. After his death, the archipelago was designated a national park. It's popular with daytrippers who ferry across to its largest isle, Veliki Brijun (a 20-minute journey from the mainland town of Fažana). However, with no permanent residents, the place becomes a peaceful haven once the last ferry leaves. The lush island is cloaked in rolling fields and thick forests, and ringed by secluded coves. There's plenty more to explore too, including dinosaur footprints, Roman ruins, a botanical garden, an ornithological park, an 18-hole golf course built a century ago and a safari park. The latter is home to a menagerie of exotic animals gifted to Tito by socialist world leaders, including elephant Lanka, one of a pair presented by Indira Ghandi.

•
Where to stay: waterfront Hotel Neptun-Istra (rooms from €61 B&B in Neptun, and from €88 in Istra, including ferry transfers, np-brijuni.hr)
Susak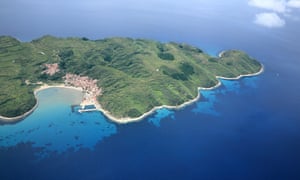 A three-hour catamaran ride from the northern port of Rijeka, Susak is unique in Croatia in that it is almost entirely sandy. A mere 3km by 1.5km, the island has no roads, just silky soft trails that crisscross the island, often trimmed by sweet-smelling shrubs. In fact, Susak's name comes from the Greek for oregano: keep an eye out for the herb, which grows wild here. It has a population of less than 150, yet the island has become an unlikely outpost of international art, hosting the Susak Expo. This quirky biennial was launched in 2006 with the idea of creating contemporary art where almost no one would see it. Its next edition will take place in summer 2018.

•
Where to stay: family-friendly Susak 272 (from €103 a night B&B, airbnb.com) sits directly opposite a sandy beach on the island's eastern bay. The house has eclectic furnishings and a sun-dappled patio and vegetable garden
Silba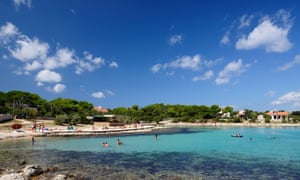 Silba takes R&R seriously. It's not just car-free and hotel-free but, during July and August, to preserve the local tranquillity, its central village is also bike-free. Ruled by the Republic of Venice until the mid-19th century, this serene little speck sits an hour-and-a-half's catamaran ride from Zadar. Life hums along in a low gear. Island activities include scaling Toreta, the panoramic viewing tower. Spend a morning skirting the northern or eastern shores' peaceful bays on foot, seeking that perfect sunbathing and snorkelling spot. For those who can't resist breaking into a sweat, there are beach volleyball courts on Sotorišce, Silba's largest stretch of sand.

•
Where to stay: a two-bedroom, whitewashed, solar-powered house (from €134 a night, minimum four-night stay, on airbnb.com), just 30 metres from the sea in Paprenica Bay
Kornat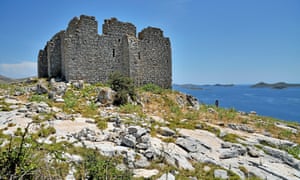 Some 89 tiny islands make up the Kornati archipelago, a national park just south of Zadar. Covered by sage, olive and fig trees, main island Kornat's land is strictly protected, as are its waters. Sailors are charged a steep fee to visit (from €32 a day, depending on the size of the boat); there are just nine zones where organised scuba diving is permitted. But for visitors seeking sun, sea and silence, plus hiking trails and knockout snorkelling, there are few better getaways. In keeping with its isolated aura, Kornat boasts just a handful of private homes available to rent.

•
Where to stay: three-bedroom Kuća Antonia (from €130 a night for a maximum party of six, kornati-kravljacica.com) is steps from the sea. The house has a small boat (€30 a day) and a barbecue. Return transfer from the mainland €200 per party
Šolta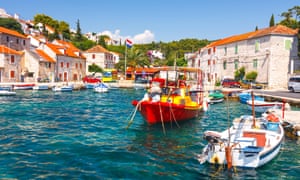 Šolta may be visible from Split's seafront promenade, but while the latter features on pretty much every tourist's Croatia hit list, travellers to Šolta are few and far between. Their loss. Hop aboard the half-hour catamaran, then make a beeline for the pretty town of Maslinica. On the island's western tip, this former fishing village is trimmed by a pine forest, crowned by an 18th-century castle-turned-luxury-hotel, and peeks out over an archipelago of seven islets. Foodie visitors are advised to leave space in their suitcases: the farms scattered across Šolta press their own extra virgin Levantinka olive oil, harvest grapes for the local Dobričić wine, or sell wildflower honey.

•
Where to stay: seafront Villa Berg has two spacious apartments (from €70 a night, villaberg.eu), each with private balconies and uninterrupted Adriatic views
Sveti Klement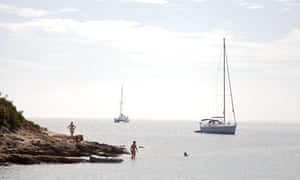 Hvar is Croatia's hippest island, frequented by celebs from George Clooney to Beyoncé. But a five-minute hop across the bay, sleepy Sveti Klement is a world apart. In 1906, botanist Eugen Meneghello transformed this island into his own secret garden, planting rosemary, lavender and lilies. Soon afterwards, he opened a guesthouse, today a collection of bungalows owned and managed by his great-grandchildren. Pretty much uninhabited from October through to early March, when this tourist accommodation shuts up shop, Sveti Klement remains both car-free and utterly idyllic. Dine on fresh seafood risotto or sea bass at Toto's beach restaurant. Alternatively, take your pick of the island's 20 or so tiny coves, bearing in mind that most are clothing optional.

•
Where to stay: Palmižana Meneghello Resort has colourful bungalows and villas (from €120 a night for two B&B, palmizana.com), all with private terraces set among the gardens. Accommodation centres around an al fresco restaurant with its own small gallery, featuring local artists
Biševo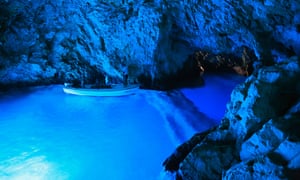 Just south of the remote Dalmatian island of Vis floats Biševo. Not only is it tiny (we're talking less than 6 sq km), it's the furthest inhabited island from the Croatian mainland. Its biggest claim to fame is Modra Špilja, or the Blue Cave, accessible solely by boat via a small sea entrance. Visit the cave during late morning for an ethereal explosion of silver and cobalt, as rays of sunshine bounce off its limestone interior. Then go and explore: isolated coves ring Biševo. The topaz sea is home to colonies of dolphins and sea turtles. Or scramble around the island's monastic ruins, which date from the 11th century.

•
Where to stay: there are just a few properties available to rent on Biševo. Pick of the bunch is this neat, four-person studio (double bed plus pull-out couch, from €55 a night, direct-croatia.com) with sea views and within easy walking distance of the Blue Cave
Proizd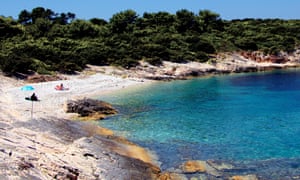 Perched off Korčula's western shoreline, Proizd is entirely uninhabited, which makes it an ideal island for escaping Croatia's summer crowds. Hop on the half-hour boat ride from Korčula's port of Vela Luka. Sun-dappled hiking trails, trimmed by perfumed maquis, crisscross the island. Picnic on Proizd's white pebbly beaches, the most popular of which (although hardly crowded) is the northern beach of Bili Boci. Snorkel above urchins and octopus. Round off a visit with a bottle of chilled Ožujsko beer at Proizd's solitary restaurant (open summertime only), which sits in the island's south side, near the petite port.

•
Where to stay: there's nowhere to stay on Proizd. Book a room at the friendly Hotel Korkyra (doubles from €85 B&B, hotel-korkyra.com) on Vela Luka's harbour. Staff can offer inside tips on Proizd, as the hotel also manages the island restaurant
Source: theguardian.com