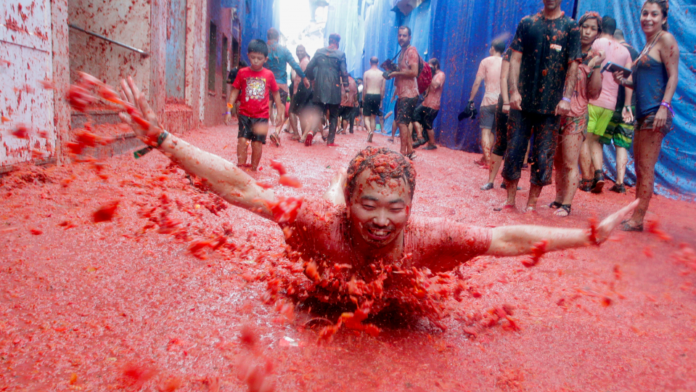 Spain holds epic annual food fight festival known as Tomatina
The fiesta which celebrates its 72nd anniversary and is billed at "the world's biggest food fight" has become a major draw for foreigners.
More than 20,000 revellers threw 160 tonnes of over-ripe tomatoes at each other in Spain on Wednesday in an epic, annual food fight known as the Tomatina.
Amid higher security measures after the recent terror attacks in Catalonia, partygoers from Spain and abroad gathered for the messy battle in the town of Bunol in eastern Spain, held every year on the last Wednesday of August.
Security at the event – including police and local safety personnel – was stepped up after militant attacks in Catalonia earlier this month killed 16 people, the Civil Guard said.
Most of those were killed when a terrorist in a van mowed down crowds on Barcelona's famous Las Ramblas boulevard.
A total of 740 security force personnel were on duty, including police officers, firefighters and ambulance workers, an increase of around five percent over the same time last year, according to Bunol city hall.
In addition, police cars were parked at the entrance to the town's narrow streets, where half-naked revellers pelted each other with tomatoes during the hour-long festivities, to prevent unauthorised vehicles from entering.
"The security apparatus was reinforced and adapted following the attacks in Barcelona and the nearby seaside resort of Cambrils that killed 16 people,"Juan Carlos Moragues, the central government's representative in the region of Valencia, told reporters.
Similar measures will be taken at many Spanish national festivals, a spokeswoman for the Civil Guard said.
"I'm not really that worried," said one Tomatina reveller, Tess Papadopoulos, from Australia. "There's lots of security around so I feel really safe."
The Tomatina is said to have originated from a spontaneous bust-up between locals in 1945 and has since drawn a huge following across the globe.
Source: TRTWorld and agencies