Death toll hits 39 in Italy bridge collapse
Italian Prime Minister Giuseppe Conte has declared a state of emergency, saying structural failure appeared to be the cause, when a 200-metre section of the Morandi Bridge collapsed over an industrial zone in the city of Genoa during a storm.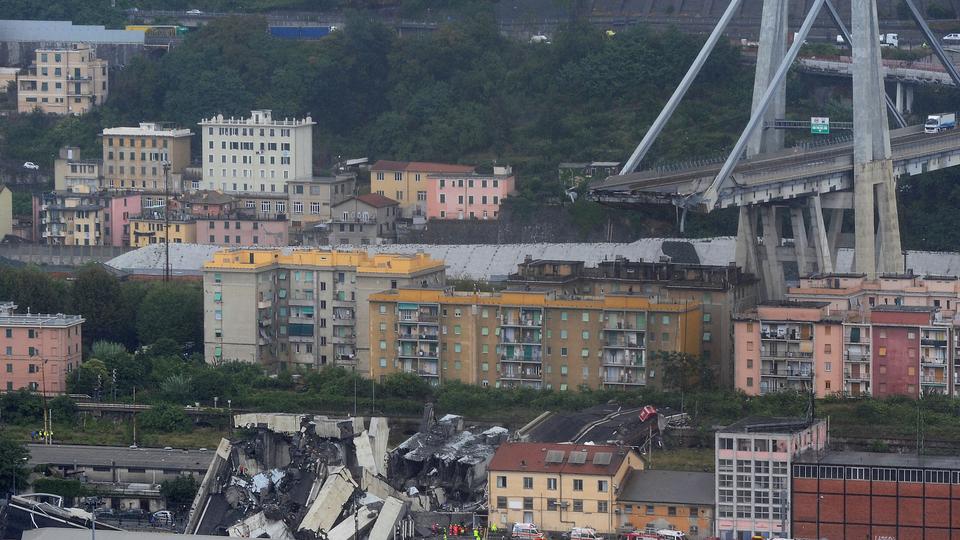 Italian emergency workers pulled two more bodies out of tons of broken concrete and twisted steel on Wednesday after a highway bridge collapsed in Genoa, raising the death toll in the disaster to at least 39 people.
Interior Minister Matteo Salvini said three children were among the dead.
Italian Prime MinisterGiuseppe Conte declared a state of emergency covering the region around Genoa. Conte, speaking at a news conference in Genoa, said he made the declaration after a request from regional authorities.
The collapse of the Morandi Bridge sent dozens of cars and three trucks plunging as much as 45 metres (150 feet) to the ground on Tuesday as many Italian families were on the road ahead of Wednesday's major summer holiday. The collapse took place after a violent storm.
Civil protection chief Angelo Borrelli confirmed on Wednesday the increase in the death toll, and said 15 survivors were injured.
TRT World's Sarah Morice reports.
Structural failure behind collapse? 
Speaking to journalists as he visited the site, Conte warned the death toll might rise in the northern Italian port city of Genoa.
He said the hypothesis for the collapse was a structural failure.
The current number of fatalities in the Morandi Bridge collapse is expected to rise «significantly,» the governor of Liguria region around Genoa shared.
«The data will be updated and we expect the toll to rise,» a senior official at the country's civil protection agency Luigi D'Angelo told reporters at a briefing.
He added that some 30 cars and between five to 10 trucks were on the road when a section of the bridge crashed down.
The disaster occurred on a highway that connects Italy to France and other vacation resorts on the eve of a major Italian holiday on Wednesday, Ferragosto, and traffic would have been heavier than usual as many Italians travelled to beaches or mountains.
Journalist Josephine McKenna brings latest from Rome.
Italian minister demands resignations
Italy's Transport Minister Danilo Toninelli called on Wednesday for senior managers to resign at the company operating the bridge.
The government will also look into stripping Autostrade per l'Italia, a unit of the Atlantia group, of the concession to manage the motorway that included the Morandi Bridge, and imposing financial penalties on the group, Toninelli said.
The top management of Autostrade per l'Italia must step down first of all,» Toninelli said in a Facebook post.
«Autostrade per l'Italia was not able to fulfill its obligations under the contract regulating management of this infrastructure,» he said on RAI 1 state television.
«I have given mandate to my ministry to start all proceedings to apply the agreement, that is to revoke the concession from these companies and seek significant sanctions which can reach up to $169 millon (150 million euros) based on the terms of the contract.»